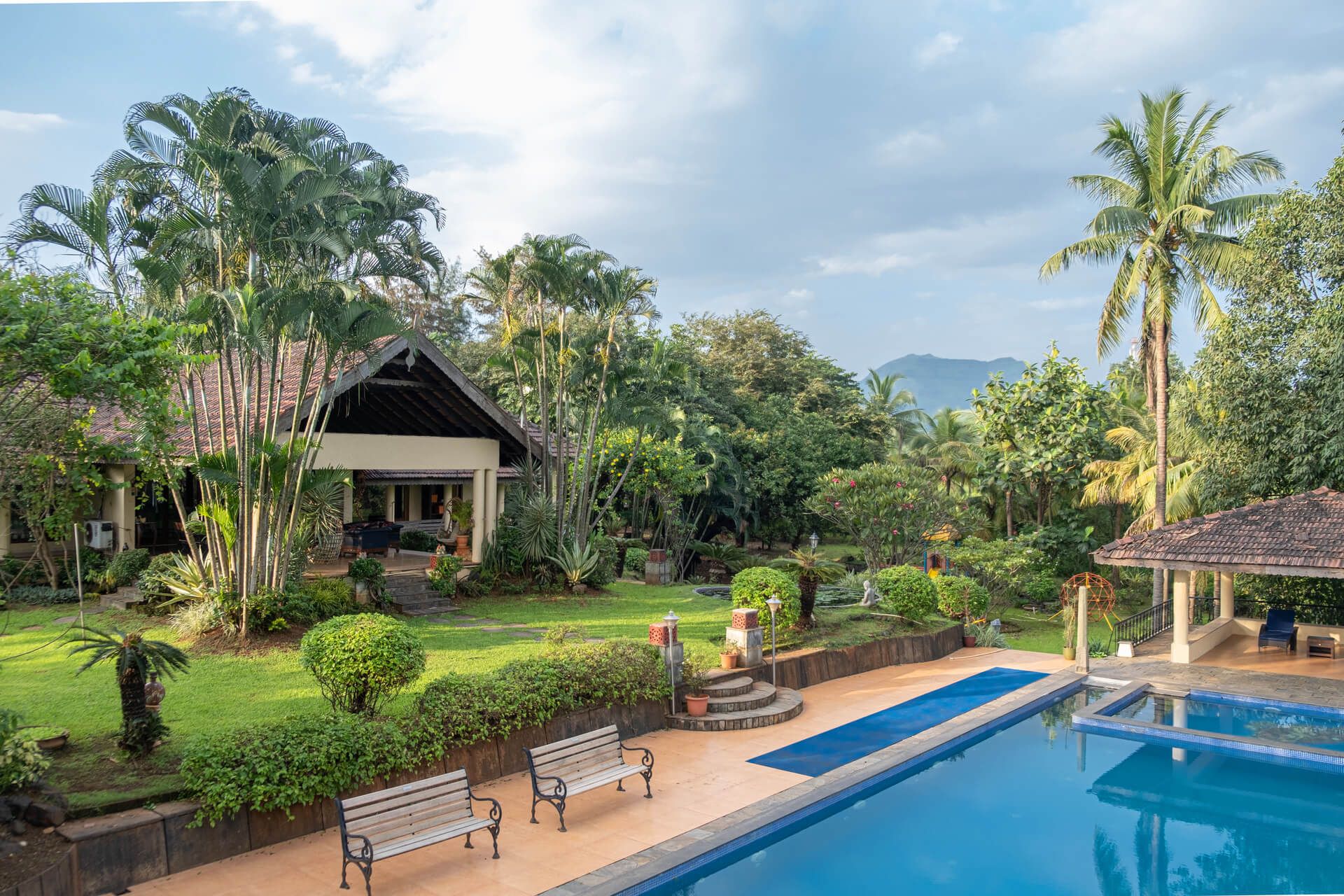 Nandi Farm
Karjat, Maharashta, India
Scroll down
Offer applied on the bill
Nandi Farm
Karjat, Maharashta, India
10 + 2 Guest
5 Bedroom
4 Bathroom
1 Pool
Spread across 26 acres of lush greenery, stands Nandi Farm, a hand-picked, luxurious holiday home situated in the picturesque town of Karjat. Situated only a few miles away from Mumbai and Pune, Karjat is a popular weekend holiday destination that allows you to relax amidst scenic natural vistas, mountains, forts, and crumbling cave temples. This slice of heaven features 5 spacious bedrooms, modern amenities and offers views of both, a lush green golf course and a mesmerizing blue lake that lies in front. You may choose to relax in your room with your favourite novel, host an intimate soirée by the lakeside, or enjoy a conversation with a loved one while walking barefoot on the green lawn. Golf enthusiasts looking for a perfect getaway with their golf buddies and family can look to play a game or 2 at the '9Aces Golf Greens and Academy' golf course adjacent to the home. '9Aces Golf Greens & Academy' is Mumbai's best kept golfing secret! Nestled in the scenic surrounds of the Western Ghats, 9Aces boasts of a designer boutique Golf Course and Training Academy, with a 250 yard Driving Range and short game training area. The facility has the unique distinction of having the only Island Green in Western India! New golfers have the option of learning the game from our highly distinguished panel of coaches. Whatever you may choose to do, be it indoors or out, every experience will be refreshing and rejuvenating for you and your loved ones.
Gallery
View all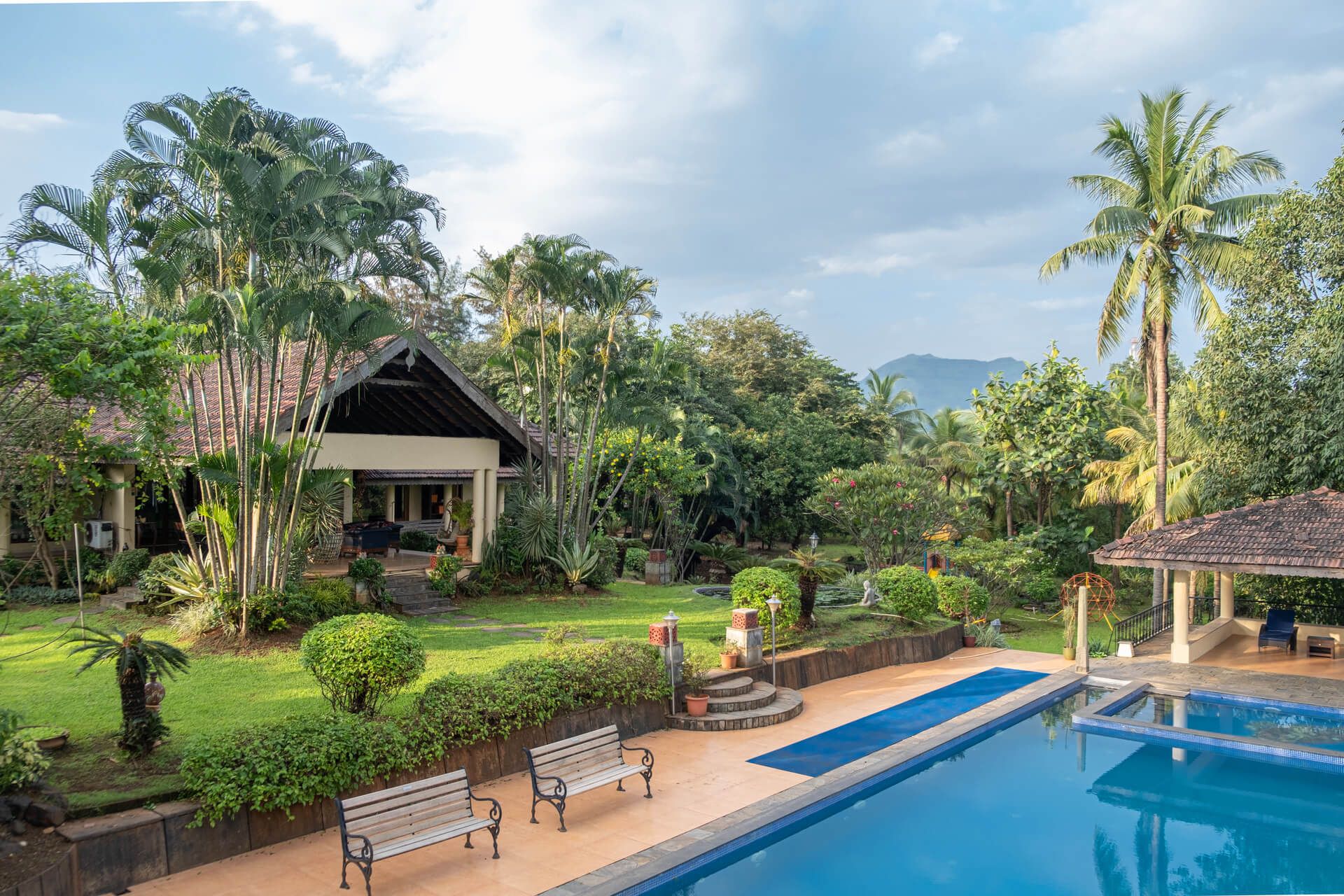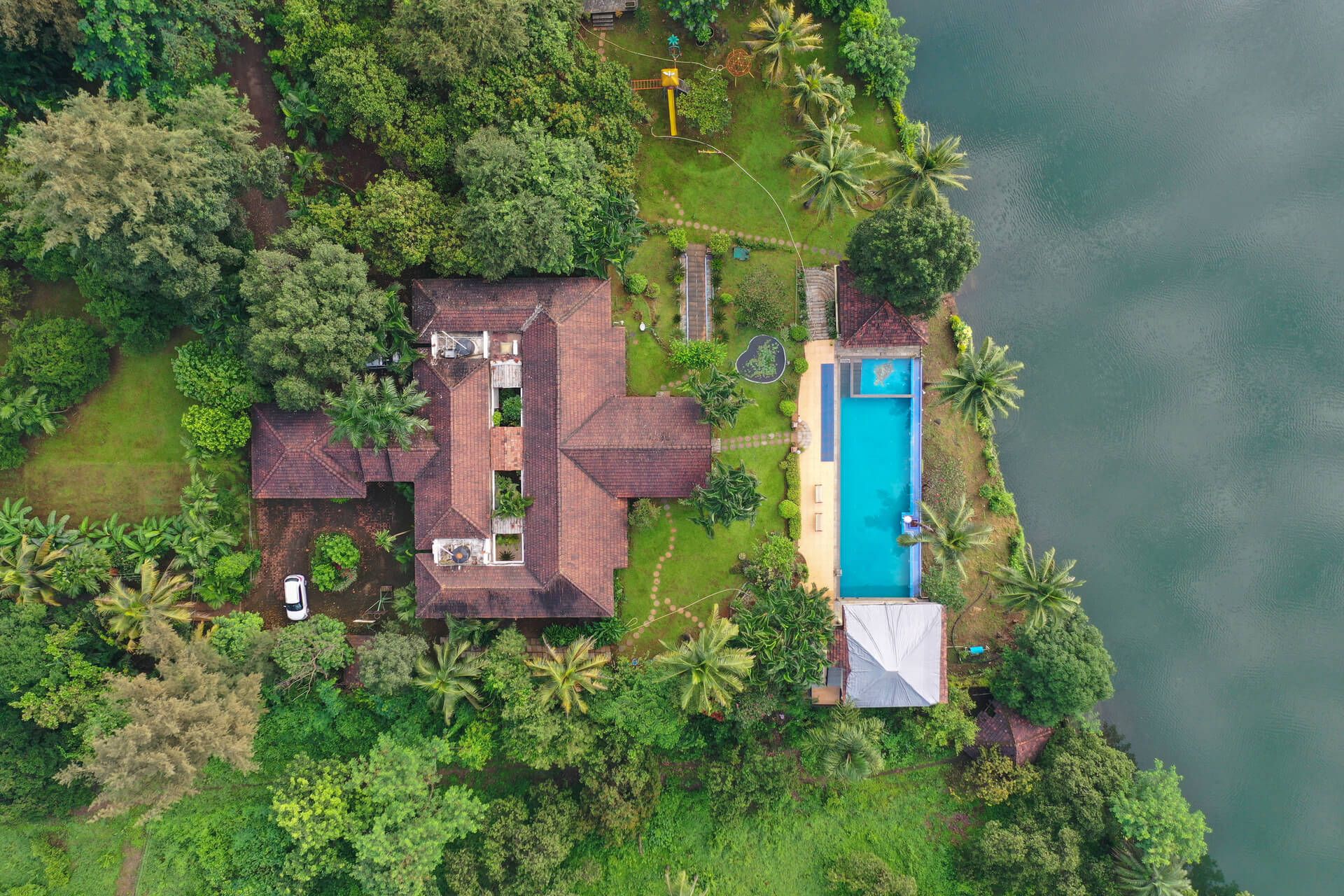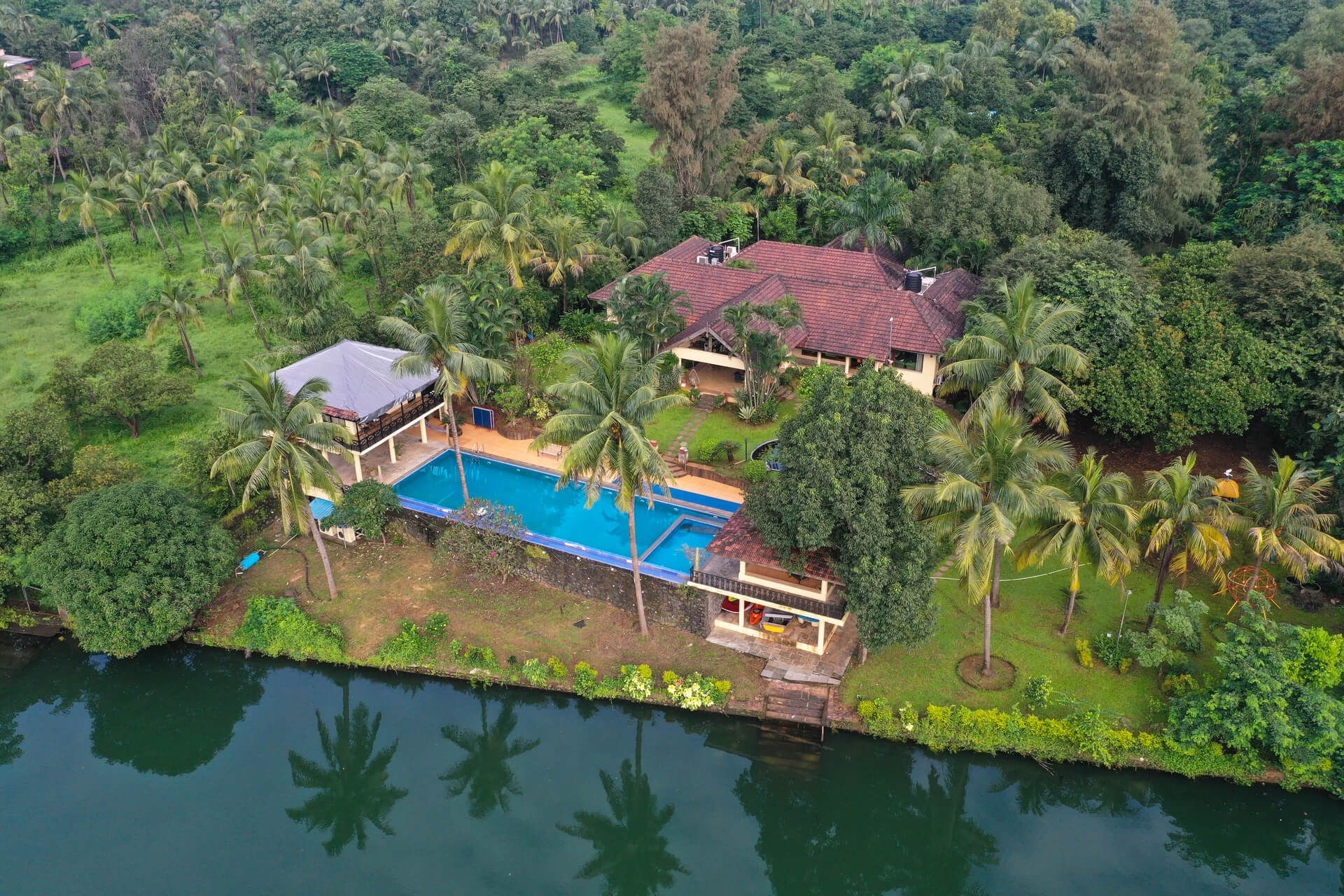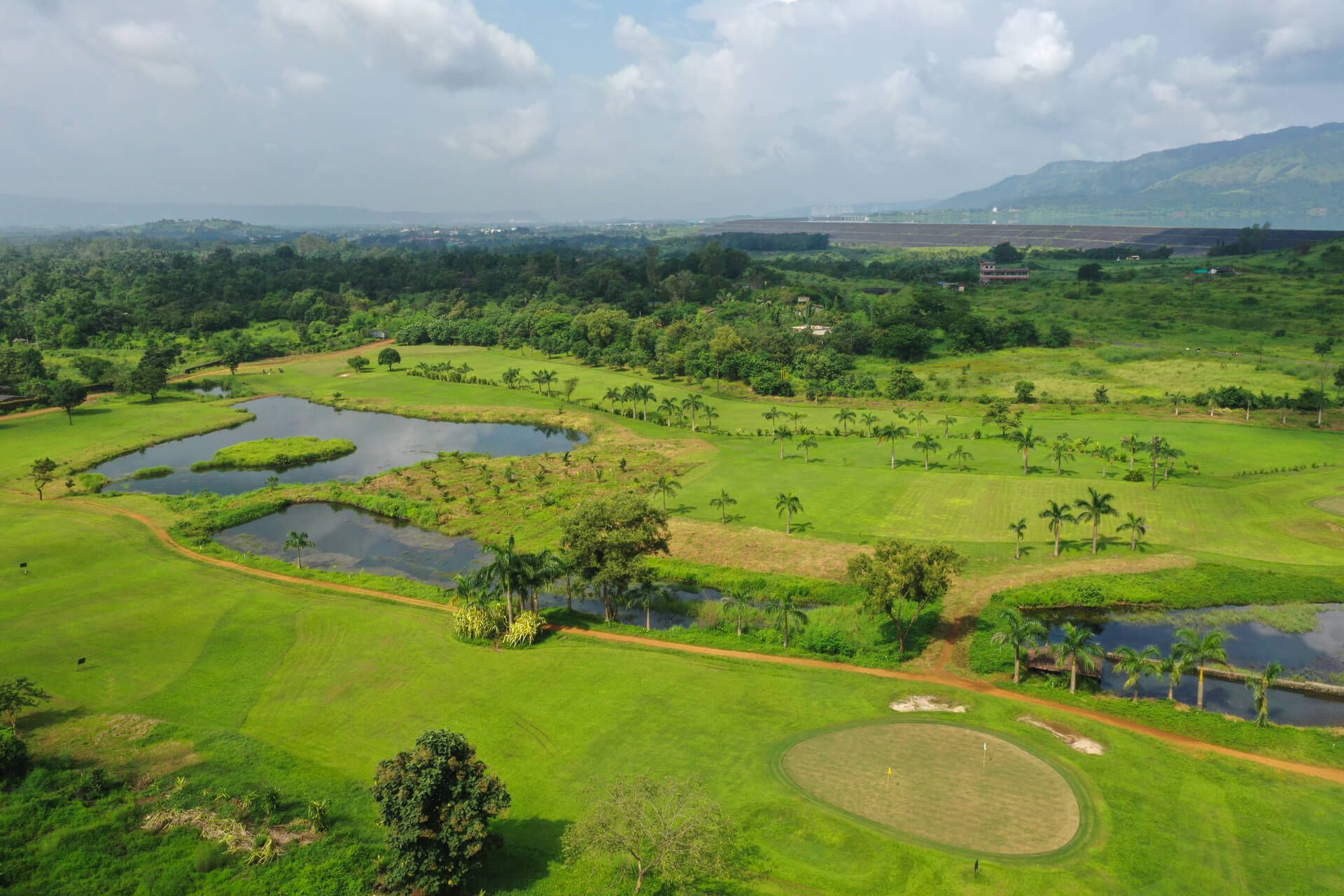 Every stay includes
Housekeeping
Toiletries
Sheets & Towels
Caretaker
Breakfast
Security
Private Pool
Music Player
Gas Hob
Oven
Washing Machine
Board Games Set
View All Amenities
Room layout
At Lohono, we always strive to embrace the highest benchmarks to deliver above and beyond your expectations
Master bedroom
King size bed
Bedroom 1
Queen size bed
Bedroom 2
Queen size bed
Bedroom 3
Queen size bed
Bedroom 4
Queen size bed
Things to do nearby
Attractions
House rules
Check-in time will be 2:30 pm on the arrival date and check out time will be 12 noon on departure date
Breakfast is complimentary
Our staff would be happy to purchase any additional items that guests may need
Our fully functional kitchen can be used by the guests anytime during their stay
Loud music will not be allowed post 11 pm
Smoking is prohibited in the villa. We recommend you smoke outdoors/ around the pool area. While smoking, kindly use the ashtray to dispose of cigarette buds, and take all necessary precautions to prevent a fire
Guests are responsible for his/her personal belongings and valuables. We request you to comply with the rules and regulations to make your stay in our villa comfortable
Guests, who are not checked-in or registered as guests of Lohono Stays are not allowed to sleep or stay overnight in the villa
A COVID test, antigen or PCR, done 48 hours prior to check-in is mandatory. Guests tested positive for COVID will not be allowed
Read more
Cancellation policy
Cancellation more than 60 days prior to the check in date – 80% refund to the customer
Cancellation between 30 days prior to the check in date – 50% refund
Cancellation within 30 days of the check in date – No refund to the customer
If due to any government restrictions, COVID to any group member or alarming increase in COVID cases in our location, and you were unable to travel, we shall give you a credit for the booking amount, that can be used within one year from the date of cancellation. You will have to pay the difference in the amount for your next stay if any.
Read more
Similar properties